Support the Decibels Foundation!
Welcome to my fundraising page! I am a middle school science teacher currently taking are of 2 young kids. As a student I participated in an exchange program at the Vermont Center for the Deaf and Hard of Hearing. The experience touched me deeply and I remain committed to teaching acceptance and compassion.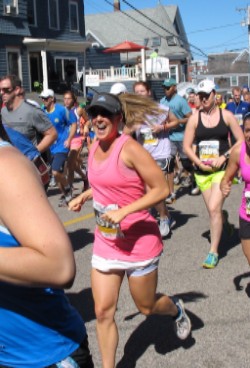 For the second year in a row, I will be running for The Decibels Foundation in the New Balance Falmouth Road Race on Sunday August 20th. I'd appreciate your help reaching my goal. The process is fast, easy, and secure. I truly appreciate any support you can provide. It will benefit children with hearing loss. To donate on-line, please enter your information below. If you'd prefer to donate by check, please send it to: 2 Mill and Main Place, Suite 418 Maynard, MA 01754.
If you can't make a donation at this point, help me reach my goal by sharing this page on Facebook and Twitter! Or, even better, send an e-mail to friends you think might be interested in contributing and include a link to my page!

Thanks so much for your generosity!
- Lelia
---
My goal is to raise $1,000 to support children with hearing loss and their families. Join me and my donors as we try to reach this goal!
We have raised $1,120.00 of our goal.